2011 NFL Draft Grades
Wow. The 2011 NFL Draft was one of the strangest in recent memory. I don't think anyone had most of those draft picks pegged and, beginning with Atlanta's massive trade up to Number 6 to drafted wide receiver Julio Jones, this one got weird. But, when it was all said and done, I think that most teams did well and drafted special players who will help them well into the future. Let's take a look at each pick of the 2011 first round:
1. Carolina Panthers: Cam Newton, Quarterback
The Panthers wanted a franchise guy to build with and, while it's a massive risk, I understand where they are coming from with this pick. However, I think that solidifying their line with defensive tackle Marcell Dareus would have been the better move here, especially because the talented Jimmy Clausen was a second round pick last year and has not had a chance.
Visit Cam Newton Jersey
Grade: B-
2. Denver Broncos: Von Miller, Outside Linebacker
Miller is an outstanding player but the recent history of outside linebacker prospects drafted in the top five and playing in a 3-4 defensive scheme is very poor. Aaron Maybin, Aaron Curry, and Keith Rivers have all been busts. Plus, Denver could have drafted Dareus to form an outstanding inside-outside combination with standout outside linebacker Elvis Dumervil, which could have been the foundation of a great defense. Miller may pan out here but it would not have been my pick.
Grade: C
3. Buffalo Bills: Marcell Dareus, Defensive Tackle
Once Miller was taken, this was a no-brainer. I credit Buffalo for not kidding around and just making the smart pick.
Grade: A
4. Cincinnati Bengals: A.J. Green, wide receiver
Green was the most talented player in the draft and the Bengals have a need for playmakers. Considering the fact that their lines are solid, this was a defensible pick.
Grade: B+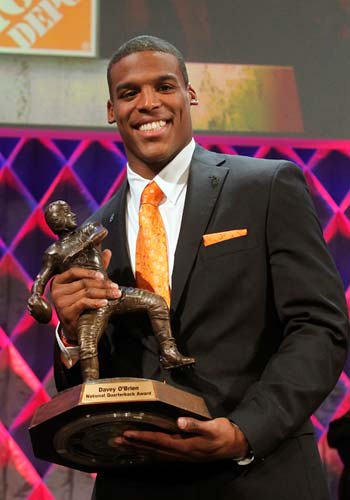 Auburn's Cam Newton holds the Davey O'Brien Trophy during the Home Depot College Football Awards Show at the Atlantic Dance Hall at Disney's BoardWalk in Lake Buena Vista, Florida.
---
5. Arizona Cardinals: Patrick Petersen, cornerback
The Cardinals love Petersen and took him when he fell to Number 5. They also liked Blaine Gabbert though and, considering their need for a quarterback, shouldn't that have been the pick? Hard to say but Petersen is certainly a special player.
Grade: B
6. Atlanta Falcons: Julio Jones, wide receiver
I give Atlanta GM Thomas Dimitroff a lot of credit for this move. He identified his team's critical need-a second playmaker to stretch defenses, block well, and make coordinators pay for doubling wide receiver Roddy White or stacking the line against running back Michael Turner-and got the player to fill it. But this was also a great move for Cleveland since they received a king's ransom to really help their rebuilding effort.
change to Julio Jones Jersey
Grade: A-
7. San Francisco 49ers: Aldon Smith, defensive end
The 49ers really needed an edge rusher and Smith is tailor made for their system. But they have also needed a quarterback for years and Gabbert was on the board. If they take Dalton or Mallett with their second rounder to develop them then I understand this move but if Alex Smith is under center in September then this was a miss. Grade: Incomplete
8. Tennessee Titans: Jake Locker, quarterback
The Locker pick was a surprise but Tennessee loves him and thinks he could do very well there. He has Vince Young's speed and athleticism with a lot more brains, football acumen, and personal character. He also is not much of a reach considering he was once projected as a unanimous top pick. But can he throw accurately and will Tennessee's receivers be good enough to handle Locker's often errant passes? That's hard to say.
Grade: B+
9. Dallas Cowboys: Tyron Smith, offensive tackle
The Cowboys drafted the best player at their biggest position of need.
Grade: A+
10. Jacksonville Jaguars: Blaine Gabbert, quarterback
The Jaguars were smart to move up and grab a potential franchise leader with the tenth pick. I also think that Washington should not have moved off this pick because Gabbert could have been a great project for the talented Mike Shanahan.
Looking for a Blaine Gabbert Jersey
Grade: A
11. Houston Texans: J.J. Watt, defensive end
They needed a great, versatile edge rusher. This was an excellent pick.
Auburn Tigers DT Nick Fairley (90) celebrates during the Oregon Ducks game versus the Auburn Tigers in the BCS Championship Game at University of Phoenix Stadium in Glendale, AZ.
---
Grade: A
12. Minnesota Vikings: Christian Ponder, quarterback
This pick was interesting. I am a big Ponder fan and I think he will be great for Minnesota. But I'm also tempted to call this a reach. But, if you were the Vikings and you saw quarterbacks just flying off the board, wouldn't you grab your man and be done with it?
Grade: B
13. Detroit Lions: Nick Fairley, defensive tackle
As a Bears fan, this one made me cringe. Renowned defensive coach Jim Schwartz will now be working with a defensive line that features last year's phenomenon Suh, Fairley, Kyle Vanden-bosch, and Corey Williams. All those guys could be double-digit sackers. That will not be fun to face next season.
Grade: A
14. St Louis Rams: Robert Quinn, defensive end
The Rams got the best pure pass rusher on the board at fourteen. Well done.
Grade: A
15. Miami Dolphins: Mike Pouncey, center/guard
Pouncey was a very solid pick and will be a pro-bowler for years. It's a bit hard to justify drafting a guard at this point in the draft though. Still, it was a solid and safe move.
Grade: B
16. Washington Redskins: Ryan Kerrigan, defensive end
I love Kerrigan but the Redskins needed a new franchise signal caller and passed on Gabbert at Number 10 to trade down. I just don't agree with that move.
Grade: D
17. New England Patriots: Nate Solder, offensive tackle
Solder is the most talented tackle in this draft. He is a bit of a work in progress but, at Number 17 and learning from Matt Light, he should be great. If the Patriots resign Logan Mankins, they are set on the line for years. An unsexy but very strong pick by coach Bill Belichick.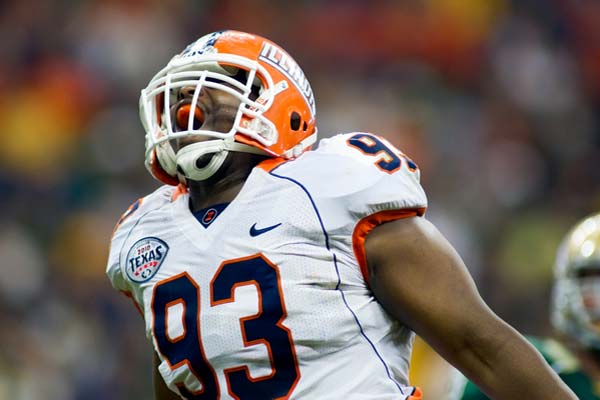 Texas Bowl- Baylor Bears v Illinois Fighting Illini; Illinois Fighting Illini defensive tackle Corey Liuget (93) celebrates after a defensive stop; Illinois led 16-0 at the half.
---
Grade: A-
18. San Diego Chargers: Corey Liuget, defensive tackle
The Chargers saw Liuget fall and grabbed him. He should help them become more physical defensively.
Grade: B+
19. New York Giants: Prince Amukamara, cornerback
The Giants got amazing value here and at a position of need. Now, the Giants don't have a true weak spot anywhere on the football field.
Grade: A+
20. Tampa Bay Buccaneers: Adrian Clayborn, defensive end
Clayborn is a wrecker in the backfield and will pair well with Gerald McCoy on Tampa Bay's line. Credit the Buccaneers for building their team the right way. Bowers may have been a better talent here but I think it was too risky.
Grade: A-
21. Cleveland Browns: Phil Taylor, defensive tackle
I love this pick. Taylor is more versatile than people think schematically: he can just sit there in any defensive formation and stuff the run. In a physical division like the AFC North, you need a guy like that on your team to contend.
Grade: A-
22. Indianapolis Colts: Anthony Costanzo, offensive tackle
The best tackle left at a position of prime need. Bill Polian rarely gets it wrong in the draft.
Grade: A
23. Philadelphia Eagles: Danny Watkins, guard
I hated this pick. Watkins is a great guy and an amazing story but you don't draft a twenty six year old guard prospect when players like Cameron Jordan and Jimmy Smith are still on the board.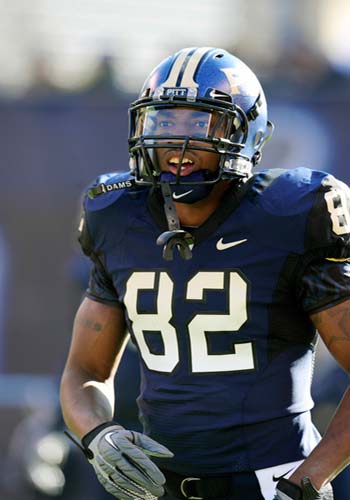 Pittsburgh Panthers wide receiver Jon Baldwin (82) warms up before the West Virginia Mountaineers against the Pittsburgh Panthers at Heinz Field in Pittsburgh, Pennsylvania.
---
Grade: D-
24. New Orleans Saints: Cameron Jordan, defensive end
What a great steal! Jordan is a top ten talent with a great pedigree and an unapologetically hard worker. He will help the Saints line for years to come.
Grade: A+
25. Seattle Seahawks: James Carpenter, offensive tackle
You build your lines first. If Carpenter was the best tackle left on their board then he was the right pick.
Grade: B
26. Kansas City Chiefs: Jon Baldwin, wide receiver
Baldwin is a big, underrated receiver who will stretch defenses. This was a very solid pick. Of course, no one knows why they were picking here; how could the Bears forget to call in a trade? That was one of the strangest things I've ever seen on draft night.
Grade: B+
27. Baltimore Ravens: Jimmy Smith, cornerback
Smith is a special talent who plays with a nasty streak that will fit well in Baltimore. If they keep him out of trouble he will singlehandedly fix their secondary.
Grade: A-
28. New Orleans Saints: Mark Ingram, running back
Bill Belichick decided to outsmart himself again and the Saints were the big winners this year. Ingram would have been the perfect Patriot and an amazing fit at Number 28. The first rounder the Patriots received in 2012 is nice but sometimes you need to sit tight, take the manna that falls to you from heaven, and draft the right player. Or, in the Saints case, make the gutsy choice to move up and be rewarded. Ingram will singlehandedly change their offensive approach; it will still have a passing theme but there will a toughness that could make it unbeatable. A great pick.
Grade: A++
29. Chicago Bears, Gabe Carmini, offensive tackle
The Bears were lucky Carmini fell. Had he not fallen and the Bears missed him because they failed to call a trade in"¦I would not have wanted to see the horrible things printed in the Chicago Tribune. But GM Jerry Angelo dodged the bullet and got his man. He is strong, mean tackle from the Big Ten and will make a great Bear.
Grade: A
30. New York Jets: Muhammad Wilkerson, defensive tackle
Another exceptional pick.
Grade: A
31. Pittsburg Steelers: Cameron Heyward, defensive end
Heyward will make a great Steeler but corner needs to be addressed in a meaningful way.
Grade: B-
32. Green Bay Packers: Derek Sherrod, offensive tackle
The Packers now have a right tackle to pair with Bulaga for a decade. As a Bears fan, I was not too happy but we are used to Ted Thompson acing the draft. Still, they may regret passing on Bowers one day.
Grade: B
Well, these were the highest draft grades I've ever given out. It was a strange draft but most teams seem to have found a great player who fits their system. It should be an exceptional 2011 season!
---
What do you think?
We'd love to hear your comments and/or opinions. If you submit them here, other visitors can read them, rate them and comment on them. An e-mail address is not required.
---
From 2011 NFL Draft Grades to NFL Football Blog | Sports Blog | NCAA Football Blog | NFL Football Archives | College Football Archives | MLB Baseball Blog | College Baseball Blog | MLB Baseball Archives | NBA Basketball Blog | NCAA Basketball Blog | NBA Basketball Archives | NCAA Basketball Archives | Fantasy Football | Fantasy Basketball | Fantasy Baseball | Soccer Archives | Olympics Archives | Stupid Athletes Archives | Other Archives | Football Forum | Basketball Forum | Baseball Forum | NFL Football Store | NBA Basketball Store | MLB Baseball Store | NCAA Football Store | NCAA Basketball Store | NCAA Baseball Store | Fatheads | NFL Football Tickets | NBA Basketball Tickets | MLB Baseball Tickets | NCAA Football Tickets | NCAA Basketball Tickets | NCAA Baseball Tickets |
---
Home Page
About Us | Contact Us | Site Search | Advertise | Terms of Use |
---