2011 NBA Playoffs Second Round Review
We are now midway through one of the most unusual and exciting NBA Playoffs ever! Both the two-time NBA champion Los Angeles Lakers and the 2010 NBA Finalist Boston Celtics have been knocked out. The top seeded Spurs were sent packing early. What is left is a jumble of the past, present, and future of the NBA so fans watching closely will be treated to several of the teams ready to dominate the league for the next half decade. Let's take a look at what happened:
The Eastern Conference
Miami Heat (2) def. Boston Celtics (3) 4-1
Many, myself included, thought this series would go six or seven games. We were wrong for several reasons. First, while the series was tougher than the 4-1 final box score would indicate, it never looked in doubt for Miami because the Heat took care of business at home for a 2-0 lead in the series and then showed that they had what it takes to close out top teams in Games 4 and 5. The Celtics were poised to win Game 4 and make it 2-2, which would have put Miami's dominance in doubt, but the Heat closed out overtime and then crushed the Celtics with a 14-0 run to end the 4th quarter of Game 5. At once close and dominating, it was perhaps the most compelling five game basketball series (out of seven) that I have ever seen.
Looking for a LeBron James Jersey
But, before you jump on the bandwagon with all the major analysts ready to anoint the Heat champions right now, there are a few issues to consider. After winning Games 1 and 2 at home, the Heat looked very vulnerable in Game 3. It was only after the Celtics lost star point guard Rajon Rondo and center Shaquille O'Neal (for the second time) to injury that Miami was able to close them out and, despite the 4-1 box score, a few plays here or there could have seen the Celtics up 3-2 after 5 games. The Bulls are essentially a younger, fresher, and healthier version of the Celtics (down to their coaching and playing systems) so it remains to be seen whether Miami is ready for that test in the Conference Finals.
Shopping for a Derrick Rose Jersey
Chicago Bulls (1) def. Atlanta Hawks (5) 4-2
This one took a bit longer than expected but the Bulls righted the ship in Games 5 and 6 to win the series and advance to their first Conference Finals since 1998. It was a seminal moment for Chicago fans since the city has not enjoyed this kind of basketball success since the Jordan era. Now they face the Miami Heat and that should be the toughest series of the playoffs so far.
Visit Kobe Bryant Jersey
br>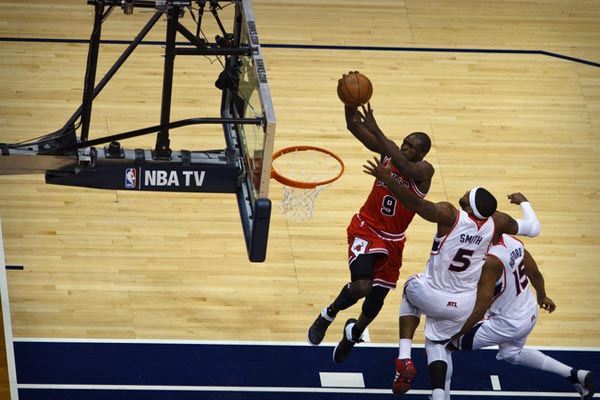 Chicago's Luol Deng (9) is going to the basket in Atlanta Hawks 93-73 loss to the Chicago Bulls in Eastern Conference Semi Finals Game 6 at Philips Arena in Atlanta, GA.
---
As for the Hawks, they played with surprising toughness and there is a silver lining to all this: the emergence of Jeff Teague at point guard makes their future quite a lot brighter. Onward!
The Western Conference
Dallas (3) def. Los Angeles (2) 4-0
This series was an absolute shocker. While the thought of the new-look Mavericks outgunning the tired Lakers was not crazy, the idea that they would sweep the two time defending champions certainly was; no one outside of Texas could have predicted that outcome. After looking shaky-but ultimately effective-against feisty New Orleans, the Lakers looked awful against Dallas. They were outplayed in the paint, failed to hold on to leads, and just looked awful in their last game. The thirty point loss and poor sportsmanship towards the end was an embarrassment to outgoing coach Phil Jackson and the league's top organization.
Looking forward, the Lakers need to retool but "blowing things up" is hardly necessary. That said, Dwight Howard is looking to leave a capped out, terrible Orlando team next season and Andrew Bynum is the perfect option for the Magic to get a quality return for their departing star. It is a match both sides need since Bryant, Gasol, and Howard is a core that could contend for several more seasons and extend Bryant's championship window through the end of his career.
As for the Mavericks, they have shed their "soft label" and will now get the rest their veterans need before heading to the Western Conference Finals. It is worth noting that the last time a Mavericks team made it this far-back in 2006-they came within a horrendously officiated quarter of an insurmountable 3-0 NBA Finals lead. This Dallas team is deep, talented, and experienced so if Tyson Chandler stays healthy they will be very tough to knock out.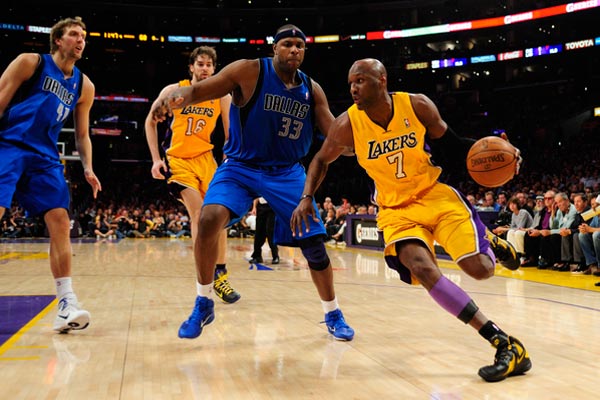 Forward Lamar Odom of the Los Angeles Lakers during a game against the Dallas Mavericks in game 2 of the second round of the NBA Western Conference Playoffs at the STAPLES Center in Los Angeles, CA.
---
Oklahoma City Thunder (4) def. Memphis Grizzlies (8) 4-3
In pure basketball terms, this was the most compelling series of the NBA playoffs thus far. It pitted Memphis' tough strong frontline duo of Marc Gasol and Zach Randolph against a very balanced Thunder team led by guard Russell Westbrook and MVP-level wing Kevin Durant. The series went back and forth and could have gone either way. But, in Game 7, Westbrook emerged into an effective distributor and the defensive duo of Kendrick Perkins and Serge Ibaka in the Thunder frontcourt was finally able to isolate Randolph and neutralize him in the post. Without Randolph producing effectively, the Grizzlies could not generate enough offense and Game 7 was a relative shutout for the Thunder. Onward to Dallas!
---
What do you think?

We'd love to hear your comments and/or opinions. If you submit them here, other visitors can read them, rate them and comment on them. An e-mail address is not required.
---
From 2011 NBA Playoffs Second Round Review to NBA Basketball Blog | Sports Blog | NFL Football Blog | NCAA Football Blog | NFL Football Archives | College Football Archives | MLB Baseball Blog | College Baseball Blog | MLB Baseball Archives | NCAA Basketball Blog | NBA Basketball Archives | NCAA Basketball Archives | Fantasy Football | Fantasy Basketball | Fantasy Baseball | Soccer Archives | Olympics Archives | Stupid Athletes Archives | Other Archives | Football Forum | Basketball Forum | Baseball Forum | NFL Football Store | NBA Basketball Store | MLB Baseball Store | NCAA Football Store | NCAA Basketball Store | NCAA Baseball Store | Fatheads | NFL Football Tickets | NBA Basketball Tickets | MLB Baseball Tickets | NCAA Football Tickets | NCAA Basketball Tickets | NCAA Baseball Tickets |
---
Home Page
About Us | Contact Us | Site Search | Advertise | Terms of Use |
---