2011 NBA First Round Playoff Preview
Are you ready for the NBA Playoffs? Well they're here. It should be a compelling series since, for the first time in quite a while, the top franchises are all in the playoffs. If you are a Knicks fan, a 2011 NBA Championship may be out of reach but the future looks brighter than ever. The Bulls look primed for a run of championship contention and the Celtics and Lakers will look to prove they are still the top dogs in their respective conferences. So, let's take a look at the first round of the NBA Playoffs in each conference:
The Eastern Conference:
Chicago (1) vs. Indiana (8)
Chicago may not be everyone's championship favorite but this one is a no-brainer. The Bulls are a complete title contender with ferocious defense while Indiana remains young, somewhat talented…and very inconsistent. The Bulls will win this one in 4-0 or 4-1.
Miami (2) vs. Philadelphia (7)
Credit to Philadelphia 76ers coach Doug Collins; his team is reinvigorated and feisty. Collins, long known as a remarkable teacher of the game, reinvented Andre Igoudala into a scoring wing stopper and developed point guard Jrue Holiday's all-around game. Elton Brand also earned his contract this season and sixth man Lou Williams has value. However, Miami is rising again, Dwayne Wade and LeBron James are playing at MVP levels, and the 76ers cannot stop the Heat juggernaut. The 76ers will win a game for respect's sake but they are not making it out of the first round.
See our Derrick Rose Jersey
Boston (3) vs. New York (6)
This is the most interesting matchup of the Eastern Conference first round. Despite injuries, Boston was dominant through the All Star break. Their defense was the NBA's best and the y remained a fearsome group determined to outplay, outrebound, and outhustle other teams. However, Danny Ainge's trade for young forward Jeff Green seems to have backfired; even though it made sense on paper the trade rattled Celtics veterans who felt outgoing center Kendrick Perkins was a core member of the franchise and robbed the team of its central defensive identity. Meanwhile, the Knicks are scoring in bunches and Carmelo Anthony is learning to defend. I still think that Boston will regain some of its mojo and pull this one out….but it will go six or seven and be one of 2011's most compelling playoff series'.
Forward Jeff Green of the Oklahoma Thunder drives to the basket against the Los Angeles Lakers during the first half of the Lakers 101-94 victory over the Thunder at the STAPLES Center in Los Angeles, CA.
---
We've got your LeBron James Jersey
Orlando (4) vs. Atlanta (5)
These two teams are close in seeding….but not in on-court capabilities. Orlando is a capable team with an MVP level center. The Magic swept Atlanta last year and looked primed to repeat the feat…or at least beat the Hawks badly. Atlanta lacks the size to compete with Dwight Howard inside and the pure scoring to offset this deficiency; don't expect an upset here.
The Western Conference
San Antonio (1) vs. Memphis (8)
The Memphis Grizzlies are a very intriguing team. A defensive joke in 2010, the Grizzlies added Tony Allen in the offseason and, combined with development by point guard Mike Conley and center Pau Gasol, have developed into a feisty defensive team. The Grizzles can also crash the boards-offensively and defensively-with Gasol and Zach Randolph, which makes them an intriguing matchup for a Spurs team that would like to keep Tim Duncan's minutes down. That said, Tony Parker and Tim Duncan are both healthy, Manu is improving, and the Spurs bench looks great. San Antonio is also 36-5 at home, has home-court advantage, and knows how to win in the playoffs and has never been the victim of a major upset so the Spurs will likely make it into the next round in 5 or 6 games.
Los Angeles Lakers (2) vs. New Orleans (7)
The Lakers edged out Dallas by tiebreak for the second overall seed. They earned a huge reward in the form of a matchup with a New Orleans team that is missing its second best player and only serious frontcourt option: David West. Chris Paul is a passing savant but, with West out, he has no talented teammates to deliver the ball to right now. The Hornets have no chance at all for an upset in this series and it should give the Lakers a good opportunity to tune up and sort out some of their issues before they are matched up with a more difficult foe.
We've got your Dwayne Wade Jersey
Dallas (3) vs. Portland (6)
This matchup is the most intriguing of the whole first round. The Dallas Mavericks won fifty seven games and were the third overall seed but they have serious holes across the roster. Tyson Chandler is nursing nagging injuries, Jason Kidd is becoming such a serious scoring liability that it is beginning to outweigh his passing skills, and the Mavericks best option after Dirk Nowitzki has become Jason Terry. Meanwhile, the Blazer are playing well and are a matchup nightmare for the Mavericks because they have a defensive two defensive power forwards and a center-Gerald Wallace, LaMarcus Aldridge, and Marcus Camby-who can double Dirk and keep Tyson Chandler off of the boards. The Blazers also have intriguing forward Nicholas Batum and guards Wesley Matthews, Andre Miller, and Brandon Roy. I think Portland will upset Dallas in six games and, despite all the Maverick's regular season success, Mark Cuban may have to consider some serious retooling in the offseason.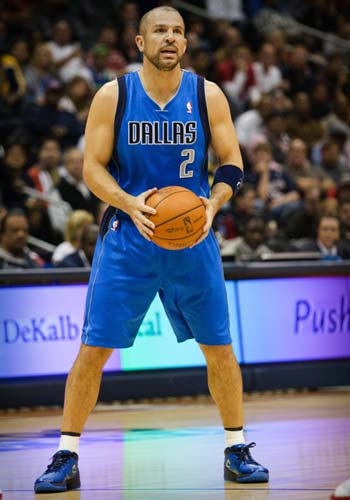 Dallas' Jason Kidd in Atlanta Hawks 98-93 loss to the Dallas Mavericks at Philips Arena in Atlanta, GA.
---
Oklahoma City (4) vs. Denver (5)
I love the way the Denver Nuggets are playing. They are showing exactly how defensively inept Carmelo Anthony was in Denver (he is showing some interest recently in New York) by playing strong team defense. Even better, their backcourt duo of Raymond Felton and Ty Lawson is lethal and the Wilson Chandler, Danilo Gallinari, Kenyon Martin, and Nene combination is virtually un-guardable. But I said 'virtually' because this Oklahoma City team is the best in the Western Conference and the second best in the NBA after the Chicago Bulls. They have two dynamic scorers in Russell Westbrook and Kevin Durant who Denver will be unable to shut down and, with the addition of Kendrick Perkins, they have the best defensive frontcourt in the NBA. Denver will make it interesting but Oklahoma City should advance far in the 2011 NBA Playoffs.
\
We've got your Dirk Nowitzki Jersey
Check back for our 2011 NBA Playoff First Round Review and also for our Second Round Preview. Enjoy the Playoffs!
---
What do you think?

We'd love to hear your comments and/or opinions. If you submit them here, other visitors can read them, rate them and comment on them. An e-mail address is not required.
---
From 2011 NBA First Round Playoff Preview to NBA Basketball Blog | Sports Blog | NFL Football Blog | NCAA Football Blog | NFL Football Archives | College Football Archives | MLB Baseball Blog | College Baseball Blog | MLB Baseball Archives | NCAA Basketball Blog | NBA Basketball Archives | NCAA Basketball Archives | Fantasy Football | Fantasy Basketball | Fantasy Baseball | Soccer Archives | Olympics Archives | Stupid Athletes Archives | Other Archives | Football Forum | Basketball Forum | Baseball Forum | NFL Football Store | NBA Basketball Store | MLB Baseball Store | NCAA Football Store | NCAA Basketball Store | NCAA Baseball Store | Fatheads | NFL Football Tickets | NBA Basketball Tickets | MLB Baseball Tickets | NCAA Football Tickets | NCAA Basketball Tickets | NCAA Baseball Tickets |
---
Home Page
About Us | Contact Us | Site Search | Advertise | Terms of Use |
---