2011 NBA Draft Review
NBA draft grades
The NBA draft is a place where families and fans rejoice. For the average rookie, the draft is an opportunity to make millions- without even playing a professional basketball game. Though this draft has been seen as one of the worst drafts in recent memory, I believe that there are several players that could turn into perennial all-stars. Of course, we have Derrick Williams and Kyrie Irving. Derrick Williams was spectacular in the NCAA tournament. He single handedly carried his team deep into the March Madness Tournament. On the other hand, Irving was very limited in his playing time. Irving only played 10 games for the Blue Devils, but I feel that he will be a great true point guard in the NBA.
I am a little skeptical of Irving being an all-star player, but I feel that he will make a big impact on the lackluster Cavaliers team. Besides those two obvious picks, I think that Kemba Walker of Uconn will propel the Bobcats to a couple of extra wins next year. This Bobcats team has never done too much in the playoffs. Year after year, the team ends up barely making the playoffs"¦. And when they do, they are always a first round exit. We know that the Bobcats want changes (they traded away their two best players""Stephen Jackson and Gerald Wallace) and I feel that Kemba was the perfect fit for this team. Look for him to have a long career in the NBA. Anyways, it is time to give out my grades for a couple of the teams from last month's draft. Enjoy!
Cleveland Cavaliers - Grade: "B". I have already told you my thoughts on Irving, so I'll skip that part. Now it is time to talk about Tristan Thompson. I remember watching the Longhorn's ephemeral run in March Madness and remember seeing this guy's tenacity on defense and rebounding. Any time anyone came into the paint, he was the first one to come in and block the shot. His offense is a little raw, but I feel that he can improve that as the years go on. I do feel that he will have a big impact on one of the NBA's worst teams, but I think that the Cavs should have gone with Jonas Valanciunas. Many draft experts are comparing this Lithuanian to Pau Gasol, and after looking at his tapes, I have to agree. The Cavs aren't going anywhere- even in the weak Eastern Conference- so why not wait a year for this young man? This really baffles me"¦
Charlotte Bobcats Grade "A-A+". If there were a such thing as a symbol for between A and A+, I would have given that to the Bobcats. I think they made a great decision by selecting Kemba. He is a scorer and, most importantly, a winner. So what if he is less than 6 feet tall? His attitude will propel him to the top-height will not be an issue. In addition, the team picked Bismack Biyombo. Though people know literally nothing about this guy (In fact, they aren't even sure about his age), I think we are looking at the next Dikembe Mutombo. He plays kind of like him and has an amazing wingspan - not to mention his superb defensive potential. Look for these two guys to be the faces of the Bobcat's franchise.
Dallas Mavericks "A". How could I leave my favorite team off the list? The Dallas Mavericks are fresh off a championship and just needed to add a couple of extra role players. With the trade of the team's pick to the Trailblazers, the Dallas Mavericks were able to acquire Rudy Fernandez (who should be the starting shooting guard for this team). Fernandez came into the league with a big splash, but has really cooled down in the last two years. Portland has never really used him correctly and he hated to play for that team. But, when Fernandez was traded, he tweeted about his excitement of being traded to the newly crowned champs. He even rejected an offer that would pay him more in his home country (something he has wanted to do for the last two years in Portland). Look for the Dallas Mavericks to be favorites to win back to back championships with this great addition.
New Orleans Hornets "F". How can I give a team a higher grade than an 'F' grade without the team picking a player? I feel that the Hornets should have moved up in the draft. The team is really deteriorating from what it once was. David West has just opted out of his contract and it is pretty unlikely that he will resign with this team. With David West gone and no other rookies coming in, the Hornets organization and the team's fans better hope that CP3 does not demand a trade. Sorry Hornets fans, but the Hornet's future seems bleak.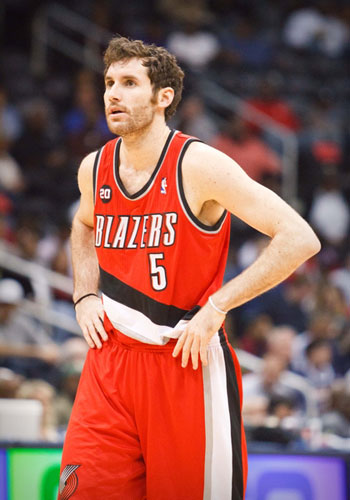 Portland's Rudy Fernandez in Atlanta Hawks 92-81 victory the Portland Trail Blazers at Philips Arena in Atlanta, GA.
---
Washington Wizards "A+". This team had the best draft. Last year, the team had very few star-quality players (except for John Wall and Javale Mcgee) and the team was in deep need of help. With the 6th pick in the draft, the Wizards picked Jan Vesely. This young man has played phenomenal basketball overseas. He is one of the most athletic guys in this draft and should make an immediate impact with John Wall at the point guard position. I expect this guy to rein havoc on defense and I expect him to win a couple of dunk contests before his career is over. Next, the Wizards selected Chris Singleton. Many people thought that Singleton would go in the middle lottery, but he fell all the way to the 19th pick! This was a steal, and I expect him to play very good defense (much like Jan Vesely). Finally, this team also picked Shelvin Mack. Like Kemba Walker, Mack is a winner. For two years in a row, Mack has brought his team to the championship""winning the first and losing the second to Kemba Walker himself. Expect him to not make too much of an immediate impact (because of John Wall), but I think that he will be a major contributor off the bench as both a point guard and a shooting guard. Congratulations to the Wizards!
Those were some of the teams that stuck out at me. Hope you enjoyed it!
---
What do you think?

We'd love to hear your comments and/or opinions. If you submit them here, other visitors can read them, rate them and comment on them. An e-mail address is not required.
---
From 2011 NBA Draft Review to NBA Basketball Blog | Sports Blog | NFL Football Blog | NCAA Football Blog | NFL Football Archives | College Football Archives | MLB Baseball Blog | College Baseball Blog | MLB Baseball Archives | NCAA Basketball Blog | NBA Basketball Archives | NCAA Basketball Archives | Fantasy Football | Fantasy Basketball | Fantasy Baseball | Soccer Archives | Olympics Archives | Stupid Athletes Archives | Other Archives | Football Forum | Basketball Forum | Baseball Forum | NFL Football Store | NBA Basketball Store | MLB Baseball Store | NCAA Football Store | NCAA Basketball Store | NCAA Baseball Store | Fatheads | NFL Football Tickets | NBA Basketball Tickets | MLB Baseball Tickets | NCAA Football Tickets | NCAA Basketball Tickets | NCAA Baseball Tickets |
---
Home Page
About Us | Contact Us | Site Search | Advertise | Terms of Use |
---