2011 March Madness Final Four Preview
March Madness is the most exciting sports tournament of the year. In 2011, it has been extra exciting: there have been countless close games and upset specials in each and every round. This year's NCAA Final Four crop is a group that no one would have predicted. Who would have thought that Butler would be making back to back Final Four appearances after losing Gordon Heyward to the NBA draft? Did anyone-and I mean anyone-pick VCU to get past powerhouse Kansas? Even Connecticut-fresh off a Conference Tournament hot streak-was considered a long-shot to make it out of region that included the overall tournament favorite-Duke-and the San Diego State Aztecs. But here we are and, despite numerous predictions to the contrary, those are the teams that made it. Knowing that, let's take a closer look at this year's NCAA Final Four:
Butler (8) vs. VCU (11)
No one expected either of these two teams to be here. Each faced a long and difficult tournament road. In Butler's case, despite their status as defending champions, many people picked them to lose in their opening round to Old Dominion. When that didn't happen, lots of fans decided it was buzzer-beater luck and predicted a loss to 1 seeded Pittsburg. But Butler's stars Shelvin Mack and Matt Howard are two of the most determined players in college basketball and they wanted to return to the Final Four. Both have had spectacular tournament runs and, despite the absence of 2010 lottery pick Gordon Heyward, Butler has now returned to the NCAA Final Four. In doing so, they became the only mid-major school to ever reach back to back NCAA Final Fours.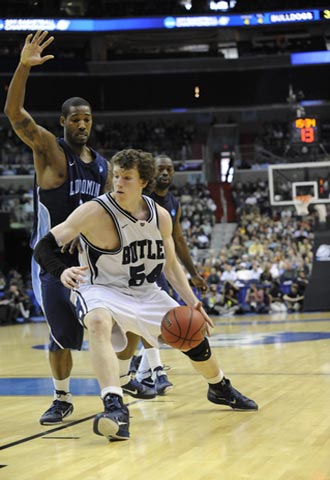 Butler Bulldogs forward Matt Howard (54) blocks the shot of Pittsburgh
Panthers guard Brad Wanamaker (22).
But don't sleep on VCU. Their tournament path was even more difficult than Butler's. To get to this point, VCU had to defeat Georgetown, Big Ten powerhouse Purdue, and tournament favorite Kansas. Unlike Butler, they managed to do all that-and seemed barely challenged in the process. VCU crushed Georgetown 74-56 and mauled Purdue 94-76 before finally being challenged by Florida State in a thrilling 72-71 victory. In their Elite Eight win over Kansas, VCU led the whole game and the final score-71-61-made the game appear to be closer than it actually was.
VCU's combination of offensive firepower (witness their 94 point barrage against Purdue) and underrated defensive abilities (no team has scored more than eighty points against them in the tournament) has proved lethal to several NCAA powers. But Butler's two stars, Mack and Howard, are flat out winners and seem capable of dragging their team back to the title game. So who will win? The matchup is as unpredictable as it is unexpected so there is no clear cut favorite but I would give the edge to Butler. Mack and Howard have been here before-just last year in fact-and know how to win better than almost anyone else in college basketball. But a VCU win would surprise no one-both of these so-called "mid-majors" are for real.
Kentucky (4) vs. Connecticut (3) Preview
This is my favorite matchup of the 2011 NCAA Tournament so far because it pits the most talented team left in the draw-the Kentucky Wildcats-against the hottest team in the country. Kentucky has been sensational this tournament and downed the Regional 1 seed-Ohio State-and ACC powerhouse North Carolina to get here. The Connecticut Huskies have not lost a game since before their own Big East conference tournament. Who will win?
This is also a matchup featuring serious star power. Kentucky is teeming with future professional ballplayers: forward Terrence Jones and lethal guard Brandon Knight both have a chance to be NBA stars while senior center Josh Harrellson and guard Doron Lamb have a place in professional basketball. Connecticut is led by sensational star guard Kemba Walker and has some of the best on-court chemistry of any team in the country.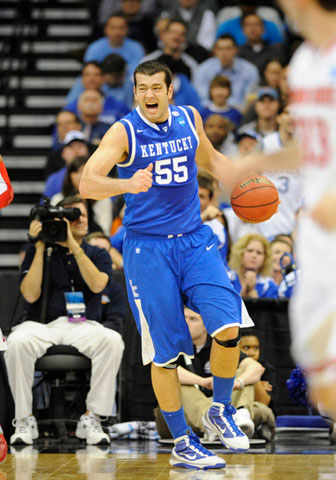 Forward (55) Josh Harrellson of the Kentucky Wildcats reacts during the Ohio State Buckeyes game versus the Kentucky Wildcats in their Sweet Sixteen game at the Prudential Center in Newark, NJ.
---
As for my pick, I'm done using statistical comparisons in this tournament. They just haven't worked. Let's try a new tactic: going with my gut. I picked Connecticut to advance to the title game in my bracket and I am sticking with that prediction. I love Kemba Walker's pure winner attitude, the team's tenacious defense, and their fearsome will to win. That's why I'm taking them to win the whole NCAA Tournament…we'll see if I'm right. On to the Final Four!
Read more at Kentucky Wildcats Return to Final Four After 13 Years.
---
What do you think?
We'd love to hear your comments and/or opinions. If you submit them here, other visitors can read them, rate them and comment on them. An e-mail address is not required.
What Other Visitors Have Said
Click below to see contributions from other visitors to this page...

Final Four: Which Role Player Steps Up? Not rated yet
Everybody knows the big names of the Final Four teams. Whether it be Kemba Walker or Matt Howard. But superstars do not win the title on their own. Every …
---
From 2011 March Madness Final Four Preview to NCAA Basketball Blog | Sports Blog | NFL Football Blog | NCAA Football Blog | NFL Football Archives | College Football Archives | MLB Baseball Blog | College Baseball Blog | MLB Baseball Archives | NBA Basketball Blog | NBA Basketball Archives | NCAA Basketball Archives | Fantasy Football | Fantasy Basketball | Fantasy Baseball | Soccer Archives | Olympics Archives | Stupid Athletes Archives | Other Archives | Football Forum | Basketball Forum | Baseball Forum | NFL Football Store | NBA Basketball Store | MLB Baseball Store | NCAA Football Store | NCAA Basketball Store | NCAA Baseball Store | Fatheads | NFL Football Tickets | NBA Basketball Tickets | MLB Baseball Tickets | NCAA Football Tickets | NCAA Basketball Tickets | NCAA Baseball Tickets |
---
Home Page
About Us | Contact Us | Site Search | Advertise | Terms of Use |
---