2011 College Basketball Recruiting Rankings
By Dennis Berry

The majority of players in the 2011 recruiting class have decided what college they will play for next season. With most of the college basketball's recruiting classes completed; the final team rankings were recently released. There are several different services that offer their own rankings.

While each site rankings are different, looking over them you get a good idea of which school is bringing in the best talent. The traditional powers in college basketball are represented and there is a return of some programs that could be on the rise once again.
Top of the Class
Kentucky Wildcats: Rankings - Rivals 1, Scout 1, ESPN 1, Maxpreps 1
John Calipari once again has the number one recruiting class for the third straight year at Kentucky. This one may be his best class yet. He has four players coming in, all five star recruits and all considered to be in the Top 20 of player rankings.

Coming to Lexington this fall is Anthony Davis, a 6'9" power forward, who was the MVP of the Jordan Brand Classic. Michael Gilchrist is a 6'6" small forward was named co-MVP of the McDonald's All-American game. One of the top point guards in the country, Marquis Teague, will continue Calipari's tradition of successful first year point guards. Kyle Wiltjer may be listed as a power forward, but has an all around skill set that makes him dangerous anywhere on the offensive end.

All four players were McDonald's All-Americans and played in the Jordan Brand Classic.
Here's an article about Kentucky Basketball Gear.
Familiar Faces
Your traditional college basketball power programs. Theses are those schools who you can almost always find in your basketball rankings throughout the season.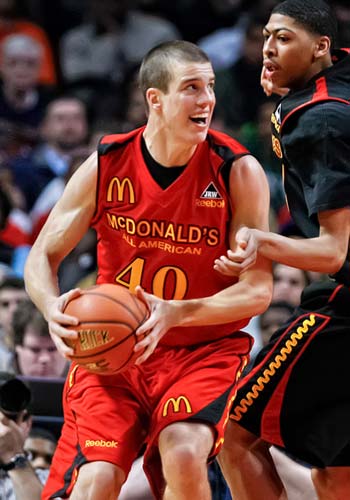 Duke Blue Devils: Rankings - Rivals 2, Scout 2, ESPN 2, Maxpreps 4
Duke once again finds itself near the top of the recruiting wars. While they might not have the census number two class, they do have another solid class coming in.

This class is headlined by Austin Rivers, the best shooting guard in the class of 2011 and seen by some as the best player. Joining Rivers is Quinn Cook, a top ten point guard out of Washington D.C. They will replace the departing Kyrie Irving and Nolan Smith in the backcourt. Center Marshall Plumlee gives Duke its third McDonald's All-American in this class. Michael Gbinije is a one of the top small forwards in the class of 2011. The addition of Alex Murphy, who moved from the 2012 class to the 2011 class, moved this near the top.

North Carolina Tar Heels: Rankings - Rivals 5, Scout 7, ESPN 4, Maxpreps 7

North Carolina was one win away from another trip to the Final Four last season. With the core of that team returning and another top recruiting class coming in, the Tar Heels are early favorites to win the 2012 title.

This class has two five star recruits at the top. James McAdoo is a 6'8" power forward from Virginia who was selected as the co-MVP at the McDonald's All-American game. Joining McAdoo is fellow McDonald's All-American P.J. Hairston also out of Virginia and one of the top incoming small forwards. Center Desmond Hubert and power forward Jackson Simmons add more height on the inside for the Tar Heels. Point guard Stilman White rounds out the incoming class.

Returning to the Top?
Some schools who have been out of the spotlight for a few seasons that may be posed to return big time.
St. John's Red Storm: Rankings - Rivals 3, Scout 3, ESPN 3, Maxpreps 2
The Red Storm burst back onto the college basketball scene last season with new coach Steve Lavin taking over a senior filled roster. Lavin has a total of nine recruits coming to New York next season.

This class is just a terrific first step for Lavin at St. John's and fills every hole on the roster. Guards are covered with Phillip Greene, Nurideen Lindsey, and D'Angelo Harrison. There are plenty of forwards with Maurice Harkless, Jakarr Sampson , Amir Garrett, and Sir'Dominic Pointer. Post play should not be a worry with Norvel Pelle and the addition of junior college transfer God's Gift Achiuwa.

The only thing Lavin will have to figure out is who plays.

Arkansas Razorbacks: Rankings - Rivals 6, Scout 4, ESPN 8, Maxpreps 5
This class put together by former coach John Pelphrey and was thought to be the class that would bring Arkansas the glory it had in the 90's. Well that may be case, but it won't be with Pelphrey, it will be with Mike Anderson.

The key to this class is point guard B.J. Young. He is considered to be one of the top five incoming point guards in the country. To go with Young the Razorbacks have added Rashad Ky Madden, a versatile player who can play the 1,2, or 3 for Anderson. Big man Hunter Mickelson will be expected to come in and help in the post. Forwards Devonta Abron and Aaron Ross round out a Top 10 class that will give Arkansas a lot to cheer about next season.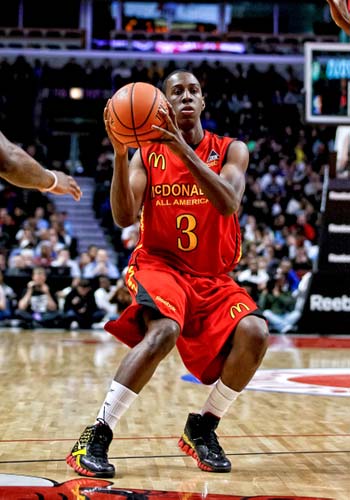 Arizona Wildcats: Rankings - Rivals 4, Scout 8, ESPN 7, Maxpreps 9
Arizona has always been one of the best basketball programs in the PAC-10 and will look to continue that as the conference becomes the PAC-12. It did not take coach Sean Miller long to make the Wildcats relevant in college basketball.

Point guard Josiah Turner from California is the highlight of this class. Joining him in the backcourt is Nick Johnson, who is rated as one of the top shooting guards in the country. The class is finished off with a pair of forwards Angelo Chol and Sidki Johnson. They help fill the void left with the early departure of Derrick Williams to the NBA.

Not just Football Schools
Texas Longhorns: Rankings - Rivals 7, Scout 5, ESPN 5, Maxpreps 6
Last season was a struggle at the end for the Longhorns who finished the season just 5-5 in their last 10 games. Longhorn fans will hope that a Top 10 recruiting class will help them next year.

Rick Barnes is losing five seniors, but is replacing them with five good freshmen. Myck Kabongo, a point guard out of Nevada, is the top incoming player. Julien Lewis and Sheldon McCleallan will bring depth to the shooting guard position. While Kevin Thomas and Jonathan Holmes will help feel holes in the post.

Looking for a Kansas Basketball Gear.
Ohio State Buckeyes: Rankings - Rivals 8. Scout 13, ESPN 6, Maxpreps 3
This is a class that is all over the board. It is only adding depth to a team that has most of its key players returning from a team that was ranked number one going into the NCAA Tournament.

Center Amir Williams and point guard Shannon Scott are a pair of McDonald's All-Americans making their way to Columbus. Joining Williams in the paint is Trey McDonald out of Michigan. Forwards Sam Thompson and LaQuinton Ross round out this class.

This class should only make the Buckeyes an even greater threat to make a run at the Final Four next season.

This is only a highlight of some of the best classes in the country. These are the schools that appeared to have addressed needs by bringing in the best talent in the country. These rankings could change as there is still top talent unsigned.

Joseph Uchebo, Trevor Lacey, and DeAndre Daniels are all still unsigned players. They are still visiting schools and hearing from coaches. They could swing the fortunes next year of any team they sign with.


What do you think?
We'd love to hear your comments and/or opinions. If you submit them here, other visitors can read them, rate them and comment on them. An e-mail address is not required.