Where Should Chris Paul Sign in the Offseason
By Jason Fryer

Just like his good friends and olympic counterparts LeBron James, Dwayne Wade, Carmelo Anthony, Deron Williams, Tyson Chandler, and AmareStoudemire; free agents Chris Paul and Dwight Howard both have big "Decisions" to make this offseason. Arguably the two best players at their respective positions (and yes when Dwight's heathy I feel he's the best center in the NBA) are free agents this offseason and both have big decisions to make this offseason. With that said, I feel its a this is a good time for me to look at where I feel free agent Chris Paul should sign this summer.
Chris Paul: (Houston Rockets) Wait, so your tell me that Chris Paul should leave LA after two seasons and move onto another team...yes for a number of different reasons.

Lets start with the why he should leave LA:

1. The Clippers don't have cap space this offseason: Even without Chris Paul on their payroll for next season, the Clippers still have almost 48 million dollars guaranteed for next season. So even if LA is able to bring Chris Paul back, the core of their roster will have to be set for the longevity of his contract. The Clippers already have DeAndre Jordan & Blake Griffin for just under 30 million per year for the next 3 seasons. Along with that, Los Angeles will have to determine if they can afford key role players (Jamal Crawford/Matt Barnes) and Eric Bledsoe.

2. Whose the Coach? Will Vinny Del Negro be back for his 4th season in Los Angeles? I'm not sure, however you can find a number of pro's and con's for the Clippers during Del Negro tenure in LA.

Pros:
Clippers have made the playoffs the past two seasons
Blake Griffin has become a top 5 Power Forward
Eric Bledsoe became a explosive player off the bench
He Helped revive the careers of Matt Barnes and Jamal Crawford after   horrible 2011-2012 seasons.

Cons:

The majority of their offense is pick and roll from the top or Chris Paul/ Jamal Crawford taking teams off the dribble.
Only have one option at the end of the game: Chris Paul.
Featured an underachieving team this season that lost their composure   numerous times throughout the year (ending with Chris Paul being ejected   in Game 6 though he shouldn't have been.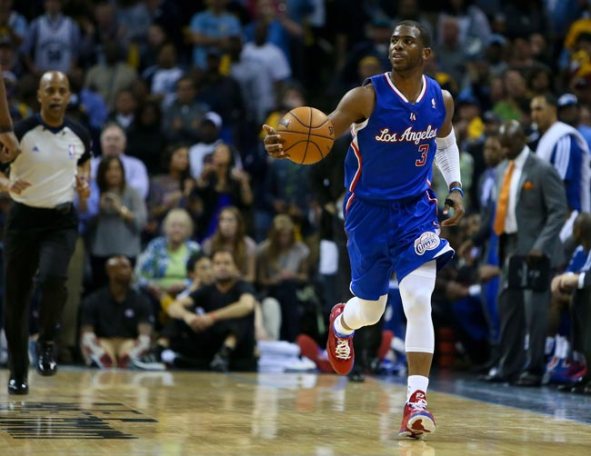 May 3, 2013; Memphis, TN, USA: Los Angeles Clippers point guard Chris Paul (3) brings the ball up court in game six of the first round of the 2013 NBA Playoffs against the Memphis Grizzlies at FedEx Forum. Memphis Grizzlies defeated the Los Angeles Clippers 118-105. Photo Courtesy by Spruce Derden-USA TODAY Sports.


3. This is a talented, but not championship team: As shown above, the Clippers do have a number of talented players on their roster (Blake, DeAndre (if he works on the offensive side of his game), and possibly Crawford and Bledsoe), however, that still puts them behind the Heat, Pacers, Bulls (with Rose), Thunder, Spurs, Grizzlies, and Warriors. This shows that the Clippers still need a number of other improvements if they want to be mentioned with the teams listed above.

So why sign with the Houston Rockets:
Would instantly create the best backcourt: With James Harden and Chris Paul, the Rockets would feature one of the highest basketball IQ backcourts that can both find their own shot, make a play for another player, and create their own shot if that what the situation calls for.


Already have a good core group: Along with Paul and Harden, the Rockets already feature a great defensive center (Asik), up and coming small forward (Chandler Parsons), 2012 top 5 pick (Thomas Robinson), and role players (Terrance Jones, DonatasMotiejunas, Patrick Beverly and maybe (just maybe) Royce White).


Are only missing a point guard: Some NBA fans would say the Rockets already have their point guard on their roster in Jeremy Lin. I don't think Lin's a terrible player however, if Houston wants to be mentioned at the top of the Western Conference the next 5 seasons (along with Golden State, Memphis, and Oklahoma City), there going to have to put another superstar on their team. Remember, Jeremy Lin lost a number of his minutes to Patrick Beverly during their first round series.


Stats people would also be on board: A number of people would also want to look at the statistical effects of this occurring. I wanted to look three key statistics: TOPG (Turnover Per 48 Minutes) PER (Player Efficiency Rating) and EWA (Estimated Wins Added) for both Chris Paul and Jeremy Lin and see the difference between the two.

Chris Paul: TOP48: 3.3 (135th in the NBA), PER: 26.43 (3rd in the NBA), and EWA: 17.9 (6th in the NBA)

Jeremy Lin: TOP48: 4.3 (177th in the NBA), PER: 14.94 (146 in the NBA), and EWA: 5.2 (101st in the NBA).

The three statistics above show the effects that Chris Paul would have on the Rockets as a team and how they would become one of the elite teams in the Western Conference.
What do you think?

We'd love to hear your comments and/or opinions. If you submit them here, other visitors can read them, rate them and comment on them. An e-mail address is not required.