A Basketball Milestone:
Why the Signing of Jason Collins Represents a Turning Point
By Aaron Saas

After coming out as the first ever openly gay active NBA player in history last spring, Jason Collins had to wait nearly a year before an NBA team would give him a chance. That team was the Brooklyn Nets, who signed Collins near the end of February.
When Collins was signed, fans and analysts wondered how Collins would be received in the locker room by his fellow teammates, and by other players around the league. So far, Collins says that he's been very well received by his teammates and most of the players he's competed against. Only one "unnamed knucklehead" has given Collins a hard time.
"One player, one knucklehead from another team," Collins said."He's a knucklehead. So I just let it go. Again, that goes back to controlling what you can control. That's how I conduct myself just being professional."

Collins says he's going to bring a professional and mature mindset to the team's upcoming road trip through what's known as the "Bible belt". Brooklyn will be leaving Saturday for games in Dallas, New Orleans, and Charlotte. Due to the religious beliefs of most of the fans that will be attending those games, Collins could be subject to some pretty bad heckling, whether he's on the court, or off of it.

For the most part Collins has received a lot of support from the NBA fans on the road, including getting a standing ovation in Los Angeles.

The Nets fans have also been very accepting, as they chanted his name during one of their home games this season.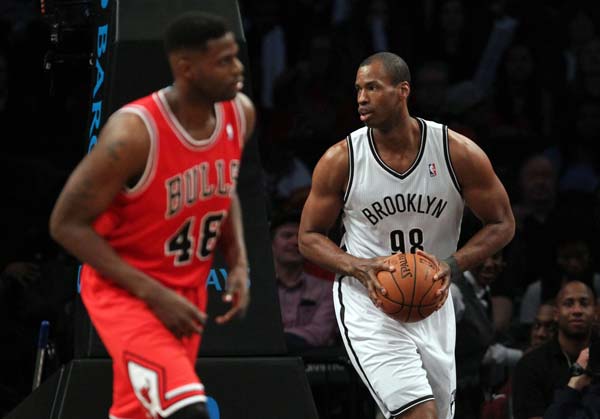 Being a gay athlete in 2014 shouldn't be looked at as a big deal. I mean, being gay period in 2014 shouldn't be treated as a big deal. However, the fact is that it is, and Jason Collins will be under a microscope for the remainder of his NBA career.

When Collins was a free agent at the beginning of the season, some people were saying that teams weren't signing him because he would be too much of a distraction. While that is completely absurd for the most part, and the reason is likely that he's a mid-30's big man who has had a below-average career, there still is some truth in the idea that Collins could be a bit of a distraction for any NBA team who chooses to sign him. However, Collins doesn't buy that he may be a distraction.

"Not just for myself, but I think for everyone. This shows that 'distraction' is B.S. That it's about the team, it's about the sport," said Collins. "I hope this shows all players that you can still have your life off the court and not have to hide anything. And still have your life on the court or on the field or on the ice, I guess, in hockey. That's a credit to my teammates and the entire Nets organization from ownership to coaching to teammates to everyone."

This could very well be the last season we see Jason Collins as an active player. No because he's a distraction, but because he's an aging big man.

In the 10 games he's played in this season, Collins has averaged 0.5 points and 0.7 rebounds while shooting 28% from the field. Those numbers don't exactly justify a new contract at the end of the season, especially for an aging big man. However, if he's not re-signed at the end of the season, expect overblown, illogical, tedious coverage of it from the media.

Collins has handled everything very well, and I'm sure whenever his NBA career is over, he would just like to go away. Sadly, I don't think the media will let that happen, as all 30 NBA teams will be criticized for not signing him.


What do you think?

We'd love to hear your comments and/or opinions. If you submit them here, other visitors can read them, rate them and comment on them. An e-mail address is not required.
A Basketball Milestone: Why the Signing of Jason Collins Represents a Turning Point to NBA Basketball Blog